BUNTING, BANNERS AND BARREL WRAPS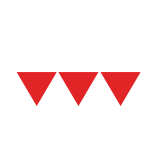 DRIVE CASE STUDY
Avid viewers of the popular television show Drive will have spotted that the show's logo and branding is pretty much always in shot. Sunbaba were only too happy to support the production coordinator and provided a host of solutions from their impressive product range.
The entertainment series is hosted by Vernon Kay, with UK racing legend and double British Touring Car Champion, Jason Plato, on hand to offer expert advice. Broadcast on ITV1 on Tuesday evenings it features the thrills and spills of motor racing with eight celebrities.
WHAT WE

PRODUCED
From the opening credits onwards, the show's producers maximised the branding opportunities available to them and Sunbaba utilised a number of their key materials to deliver solutions.
Their Ultramesh product was used for generic banners that were placed throughout the different race tracks and on the set of the Night Race, for black and white checked wraps and it was also used for some specifically designed and cut triangles that appeared in the bar and sofa areas. Vestaweave was utilised for decorative purposes with cushion covers, headrest covers and even tiebacks for curtains, showcasing its versatility.
In addition, PVC was used for barrel wraps, again seen on screen at all of the race tracks and at the Night Race set, whilst the green and all important chequered flag were made from a black backed polyester fabric.
Amelie Cross, Sunbaba's account director said: "This was a great project to be involved in for a number of reasons, obviously to see our products on TV is really exciting but first and foremost it is a great example of how diverse our product range actually is and how extensive the solutions that we're able to deliver for our clients are. By working closely with the production co-ordinator and understanding exactly what he was trying to achieve we were able to put forward some constructive ideas."